February 2016 Issue #126
---
Hello,
What fun that we both love gardening. Thanks for joining me.
1) Gnarly carrot
2) Eco gardening tips
3) Kumara Cake
---



Here's a gnarly carrot!
Perfectly edible.
Tugged and wrenched out of the ground by Stacey and Jessie in Noosa, Australia

---
Like chocolate, no self-restraint is needed to enjoy
No dig Vegetable Garden's FACEBOOK page. Love to see you there to read the latest news and tidbits!
---
Eco gardening tips
Hot veggies
In hot weather, best to water in the morning. Be careful using the first water from your hose if it's been sitting in the sun. This water can heat up alarmingly, so test it first. More watering tips garden watering tips.
Water wise
Another water tip is that it's not a good idea to just water only a few precious plants when your garden is dry, and I mean bone-dry. The dry area, including any adjoining parched lawn you may have, can act like a sponge and suck the moisture from the very plants you want to have the water.
Wheelbarrow wheelies
You know how sometimes it's hard to get out the last of the load in your wheelbarrow, be it soil, weeds or whatever. So you do a few wheelies… turning and twisting. Well, simply line your barrow with an old sack or similar and when you tip, lift the liner up.
---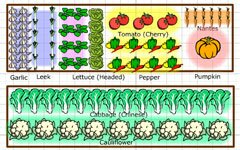 Want to know what vegetables to plant?
Want to know when to plant them?
The GroVeg Garden Planner is your answer. Click here for a 30 DAY FREE TRIAL!
---
Kumara Cake
Gluten-free, sugar-free, and vegan. My friend Meiling gave me this recipe and I finally tried it. Moist and dense, it's a winner.

Ingredients

2 medium to large kumaras/sweet potatoes (approx. 430g)
¾ cup ground almonds
½ cup buckwheat flour—or any flour (I used mostly coconut flour with bit of buckwheat flour)
14 Medjool dates
5 flat Tblns cacao powder
2 Tblns maple syrup (optional—I used 1 tsp honey plus a few drops of Stevia sweetener)
Pinch salt.
Method

Steam kumaras until just soft.
Put kumaras and dates in food processor and mix until blended.
Mix other ingredients in a bowl, then add the blended mix.
Place on lined baking paper or grease tray and shape into cake 3-4cm high.
Bake 20 mins at 165°C (330°F). Cool for 10 mins before cutting.
Note: Quite sweet for me, and next time I might leave out most or all sweetening. As it is a moist mixture, store in the fridge.
Preparation: 35 minutes
Cooking: 35 minutes
Serves: Makes a cake about 16cm diameter, and slices can be small, Mmm.
---
Live, love and garden.
Megan
---