March 2016 Issue #127
---
Hello,
What fun that we both love gardening. Thanks for joining me.
1) Losing the plot
2) Eco gardening tips
3) Dairy-free Almond Cream
---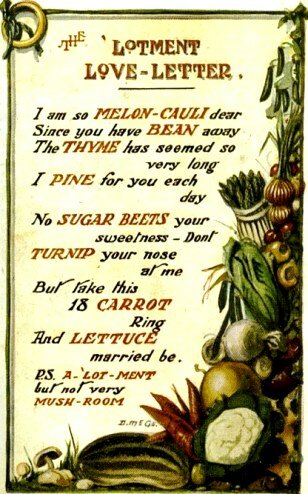 So sweet, it's enough to
melt a gardener's hand cream... I mean heart!
For a fun read on the
hijinks that really do go on
in some allotments, or community gardens
as we call them in NZ,
go to Losing the plot.
---
Like chocolate, no self-restraint is needed to enjoy
No dig Vegetable Garden's FACEBOOK page. Love to see you there to read the latest news and tidbits!
---
Eco gardening tips
All you need is—vinegar
Vinegar, I use white vinegar, is a natural general purpose cleaner for the home. It can leave a strong smell although it soon dissipates. If you'd like to up the usefulness of vinegar as well as have a lovely citrus scent wafting around, here's what to do.

Save the rind of lemons, limes and oranges, chop roughly, pop in jar and fill jar with vinegar. Leave to infuse for 2-3 weeks, then strain into a spray bottle. Like vinegar, citrus also has antibacterial, antifungal and antiviral properties, plus is a natural insect repellant. Try spraying around door and window frames to repel flies and mozzies (sorry 'skeeters' in USA speak).

What a corny tip!
I'm continually reading, and often trying tips. I'd have to say, most don't work... but here's one that's honest for a change, except for the dud remedy! For cleaning the garlic smell off your hands after cooking, rub them on a stainless-steel spoon. Supposedly the steel absorbs the odour, but our experiment ended in failure and a major case of garlic hands. But here's a valuable tip: if any of your friends are offended by your garlic hands, get new friends.

Sorry! But at least I saved you from trying this out.

Peak herbs
If like me here in NZ, your summer's coming to an end, but it seems the more you pick your herbs the more they flourish; well then make herb ice- blocks.

Easy... chop herbs—thyme/sage/oregano/chives etc and fill ice tray. Pour in enough olive oil to just cover, then freeze. Great to add at the last minute to stir-fries, stews, casseroles or anything savoury.

Or make these rather spiffing herb vinegars
---


Want to know what vegetables to plant?
Want to know when to plant them?
The GroVeg Garden Planner is your answer. Click here for a 30 DAY FREE TRIAL!
---
Dairy-free Almond Cream
Last newsletter I put in my delicious Kumara Cake. It was well appreciated. Here is a very nice accompaniment to spoon over the cake or pig out by the spoonful!

Ingredients
1 cup almonds, soaked overnight (or at least 4 hours)
6 dried apricots, soaked overnight in 1½ -2 cups water
½ tspn vanilla.
Method

Drain and rinse the almonds.
Put in blender with the vanilla, apricots and apricot soaking water. Blend on high speed until creamy. Trickle in a bit more water if too thick.
If you want a very smooth pale cream, strain it through a piece of muslin cloth.
Put in bowl and top with a sprig of mint (touch of veg, well… herb).
Notes: Using cashews instead of almonds also makes a creamy sauce this way.

Preparation: 5-10 minutes

---
Live, love and garden.
Megan