November 2013 Issue #99
---
Hello,
What fun that we both love gardening. Thanks for joining me.
1) Caught veg-handed
2) Eco gardening tips
3) Lemon Secret


"Those who live in tune with the attractive force of love achieve Harmony with nature and their fellow beings."
~ Paramahansa Yogananda
---
Caught veg-handed
Community gardens are popular in many countries — here in Wellington, NZ we have at least 3 nearby.

These gardens are divided into small plots and rented or loaned out to locals who come and plant, water, weed and grow for their own use.

Believe it or not, thievery can happen. When caught red-handed (veg-handed), the excuse is usually "Isn't this a community garden for everyone?" according to a spokesperson for Millennium Gardens in Winnipeg, US.

So beware of 2 footed, sticky-fingered varmits if you have an allotment, and change any signs to read "Produce is for our gardeners only." Get others, plus locals to look out for each other — build a caring community.
---
Eco gardening tips
Muddy or dirty paths?
It can be expensive to buy supplies at garden centres, so whatever you can beg or borrow nearby, should be your first choice.

If pavers or bark/stone chips are not in your budget, what else? Apart from the likes of old cardboard, paper, carpet, doormats and sawdust, there are some leaves that can be used. Gum leaves (tough and short on nutrients) and pine needles (containing weed-suppressing terpenes) take forever to break down, so make a good mat for your pathways.

Cuddle your pots:
Another natural and tough material is burlap which is made from jute, flax or hemp. Ask cafes that roast their own beans for some coffee sacks, or buy burlap from garden shops.

If you need to protect your container plants from freezing conditions, and to stop pots shattering, wrap burlap around your pots and tie with twine. That ubiquitous 2nd hand bubble-wrap can also be used as a layer under the burlap first for extra protection.

Green water:
Raw vegetables have live enzymes which are good for us. But some people have to get used to eating uncooked veggies and take them in small doses until their digestion can cope. In some veggies cellulose breaks down, or certain nutrients are released... by cooking.

Without going into details, remember that anything that grows above the ground in the way of greens, usually needs only 2-10 minutes to cook. Steaming is better or use minimum boiling water so as not to leach vitamins into the water. Overcooking can end up with grey veg and green or brown water... not a good look or taste.

Check out my Recipes
---
If you'd like to simplify your gardening by knowing when, what and how to plant, I'm willing to bet this GrowVeg.com garden planner will be a hit with you,
like it is with me.
"The free trial for a month won me over and now I definitely can see the usefulness of this planner. Thank you Megan for recommending this, getting excited looking at all the possibilities I have for my veg patch now."
Eileen R.
---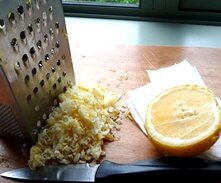 Lemon Secret
Apparently chefs know this, but although I've cooked...um..100,000 plus meals for my kids, family and friends... I've only just been sent this tip from a friend. Thanks Don R, my culinary life can now begin!

Ingredients

1 fresh, sun-kissed, nature's perfect, hooley-dooley lemon.
Method

Wash lemon and put in freezer.
When frozen, grate whole lemon including peel (fine or coarse, doesn't matter). I used a folded paper towel to hold lemon to stop my hand freezing.
Store in container in freezer and use by sprinkling some on salads, desserts, ice-cream, soups, sauces, cereals, pastas, rice, fish and meat dishes... the list is endless.
Makes all of the foods healthier and they will have an unexpectedly wonderful taste.
Preparation: 2-3 minutes

---
Happy gardening
Megan