Vegetable Recipes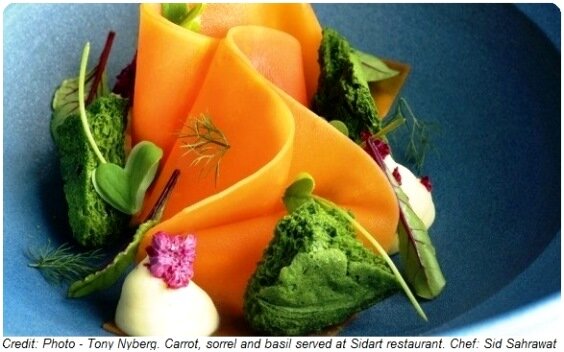 Be part of the stampede back to the kitchen! The heart of the home and the health of everyone in it, starts in the kitchen.
That's why it's rewarding spending a bit of time, using your skill and imagination in the kitchen when there's a decent reason to make a bit of an effort.
Constant takeaways, instant meals, microwaved dinners are SO yesterday. Don't mess with your body and don't mess with your moods any longer.
These recipes for vegetables will have you smiling all the way... all the way to compliments, satisfaction, and a healthy, happy home.
Raw or cooked, see how using easy vegetable recipes makes mealtimes a pleasure.
If you thought you haven't the time, energy or know-how to prepare food the way we are meant to eat it... quickly read on.
Grab those pots'n' pans, spoons'n bowls, make a list... into the kitchen, you are already a few minutes late. Quick run, it's fun, everything is here.
Tuck into these easy recipes we have for you here. Fun and healthy ways for preparing and eating vegetables is the rage!
Firstly some simple, tasty appetizers . . . .
Eggplant rolls
Ingredients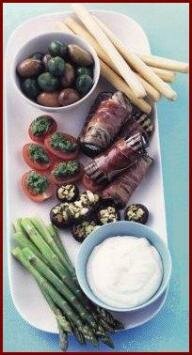 1 oval eggplant
12 small slices prosciutto
100g dolce latte or other soft blue veined cheese
Olive oil
Method
- Slice eggplant into thin ½ cm oblong slices and brush both sides with olive oil.
- Grill slices both sides for 1-3 minutes (depending on heat of grill).
- Place spoonful of cheese on each slice and roll up.
- Wrap a slice of prosciutto tightly around each roll (optional).
- Can be served as is or lightly placed under warm grill for a few minutes.
Serves: Makes approximately 10-12 rolls
Preparation time: 20 minutes
~~~~~~~~~~~~~~~~~~~~~~~~~~~~~~~
Cherry Tomatoes and Pesto
Ingredients
Punnet of cherry tomatoes or about 12
Small jar of pesto, or make your own:
Pesto Ingredients
1 large handful of basil leaves, washed and dried
3 garlic cloves
I heaped Tbln raw pine nuts, walnuts or cashews
¾ cup grated parmesan cheese
2 Tblns extra-virgin olive oil
Mix altogether in food processor, or chop finely by hand and mix.
Method
- Cut tomatoes in halves and arrange on platter.
- Put a dollop of pesto on each tomato half.
Serves: Makes 24
Preparation time: 10 minutes
~~~~~~~~~~~~~~~~~~~~~~~~~~~~~~~
Asparagus and Aioli Appetizer
Ingredients
1 bunch asparagus
Jar of mayonnaise (or homemade)
2 large cloves garlic, crushed and chopped
Method
- Trim white ends off asparagus, wash and steam for 3 minutes.
- Add garlic to mayonnaise and put in small bowl for dipping.
Serves: Makes approximately 10
Preparation time: 5 minutes
~~~~~~~~~~~~~~~~~~~~~~~~~~~~~~~
Tasty Stuffed Button Mushrooms
Ingredients
12 button mushrooms, washed and stems removed
Juice of one lemon
¼ cup apple cider vinegar
½ cup breadcrumbs
1 small red onion finely chopped
2 garlic cloves, crushed and chopped
½ cup breadcrumbs
1 Tbln soft butter or olive oil
Salt & pepper to taste
Method
- Mix lemon juice and vinegar and marinate mushrooms in this mix for few hours or overnight.
- Arrange mushrooms on platter.
- Mix all other ingredients and press small spoonfuls into mushrooms.
Serves: Makes 12
Preparation time: 20 minutes
Stuffed-Zucchini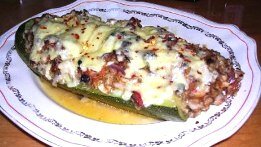 You can't go wrong with this — Even the kids love it and they'll help you fill up the boat!
- 1 large zucchini or marrow that's got a bit too big for those tender recipes
- 1 egg, lightly beaten
- Approximately ½ to 1 cup grated cheese
- 1 medium onion, finely chopped
- 1 Tbln each of several chopped garden herbs (oregano, thyme, sage, coriander, parsley etc)
- Salt and pepper to taste
Fillings:
Any leftovers in fridge; any mixes of cooked rice, spuds, couscous etc, raw cabbage, tomatoes or other veggies, garden beans and soaked and cooked dried beans; peas and chickpeas; 1-2 Tblns pine nuts or sunflower seeds; flaked fish, mince, chorizo, bacon or chopped cooked meat... you get the idea.
Method
- Wash, then cut top third lengthwise off zucchini
- scoop out seeds and enough pulp to make a thick boat
- mix filling ingredients with egg and seasonings, pile into zucchini and top with grated cheese
- Put in oiled baking dish and cook uncovered for 40-60 minutes at 175°C (350°F)
Serves: 4 or more
Preparation time: 30 minutes
Mish Mash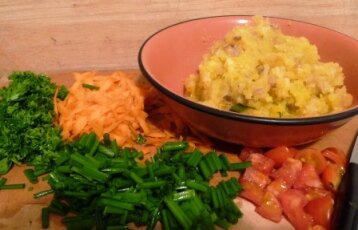 In praise of spuds and root vegetables, here's an old-fashioned standby with a modern approach:
- 3 small spuds (floury sort are best)
- 2 medium carrots
- 2 medium kumara or sweet potato
- 2 tablespoons butter, coconut or olive oil
- 3 tablespoons milk (optional)
- Salt and pepper to taste
Method
- Scrub vegetables clean and slice thickly.
- Steam or boil in just enough water for approximately 30 minutes or until soft.
- Drain off any water, or keep enough to mash in if not adding milk — add milk and butter.
- Mash roughly, so that there are still some chunky bits of each vegetable in the mix.
- Season with salt if needed and be generous with pepper as it goes well with this dish.
Extras: A great way to add some raw vegetables to this is to stir in just before serving some grated carrot or radish, and chopped herbs or celery. Use what you have in the garden, chop it up and toss in to add colour, flavour and goodness.
Serves: 4 or more
Preparation time: 20 minutes
Ali's Vegetable Curry
My crazy friend Ali runs a restaurant, so here's a crash hot crazy curry!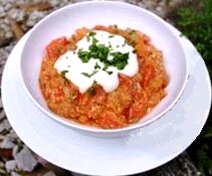 - 1 tablespoon more or less of oil
- 2 cloves garlic
- 1 large onion or 2 smaller ones
- 3 large tomatoes
- 1 cup cooked chickpeas or lentils
- 1 large carrot
- 1 medium potato
- Any other vegetables you might feel like
- ¼ tsp each salt, ground cloves, ground turmeric
- ½ tsp each cinnamon, ground chilli peppers
- 2 tsp cumin
Method
- Chop up your vegetables into bite sized pieces, and crush your garlic, or chop finely.
- Heat oil in heavy based pan (with fitting lid!) and cook onions and garlic until onion is clear.
- Add all the spices, stir, gasp, choke, put exhaust fan on.
- Add tomatoes & stir. They should liquefy a lot, and stop you gasping.
- Add other vegetables and chickpeas, and stir.
- Cover with a tight lid and leave to cook for 15 minutes or until vegetables are cooked. Stir occasionally, and you may need to add a little water, depending on how juicy your tomatoes are.
Extra: A little dairy or soy yogurt makes a nice addition to this, giving it smoothness, but still with a bite.
This recipe is a traditional Pakistani curry. You can substitute any vegetables above (except the tomatoes and the onions) as long as you keep roughly to the same quantities.
Preparation time: 30 minutes.
Serves 4.
---
Feast your eyes on these . . . .
Barbeques: Good barbeque recipes should be universally loved, but with your touch of imagination... and again, a dream to cook, and easy to eat in-between conversation, relaxing and having fun. Did I mention healthy... they are too. Fire up your meals now with Barbeque Recipes.
Stir-frys: Grab your wok — no wok? No worries. Fetch your frypan; pick up some shiny utensils; flirt with some foods, and dance into the kitchen to stir up some compliments with these Stir-fry Recipes.
Salads: If you want to make salads with lettuce that stands up on the plate and announces it is a lettuce, and tomatoes kissed by the sun, and wonderful vegetables with a wild look, how about clicking over to Salad Recipes.
Dips: These whippy dippy blobs in bowls are not as dumb as they sound, they have been tried and tested to work easily with a smooth taste... or crunchy, as the case may be... drum roll for Dip Recipes.
Getting Kids to Eat Veggies: Nurturing tucker, especially vegetables plucked from your garden, will get oohs and aahs from your kids when you follow these Vegetable Tips for Kids.
Preserves For preserve lovers, check out Preserves. And for speciality buffs, find out about Making Herb Vinegars.