Great salads should be simple, and
simply delicious
I also say that you can often make simple salads that LOOK insanely complicated — and make others insanely jealous. What fun!
When summertime days merge into languid nights, a fresh, pert salad appeals enormously.
And when winter's grip makes you want hot food, hot baths and hot waterbottles, well surprise... what's hot?
Hot salads, that's wot!
Salad recipes are the No.1 excuse for making healthy eating entirely possible all year round.
Freshen up your life, here's your inspiration to go wild, be innovative, and shout and sprout out your hidden talents.
Go salads, ra, ra, ra!
Greek Salad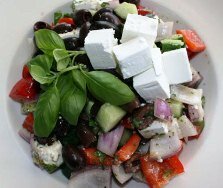 This is a spectacular dish, especially as a fresh change from your regular salad. The blend of ingredients makes for a crunchy texture with the pleasant saltiness of the feta adding depth and contrast.
4 ripe tomatoes
1 cucumber, unpeeled
1 green capsicum pepper
15-20 kalamata olives
1 red onion, sliced in fine rings
1 teaspoon fresh oregano
½ teaspoon dried oregano
200g feta cheese cubed
2 tablespoons of good quality Olive Oil
1 tablespoon lemon juice
salt and pepper

Chop the tomatoes into quarters or eighths. Cut the cucumber lengthwise and chop roughly. Cut the capsicum into thin strips lengthwise. Mix together in a serving dish with the olive oil, lemon juice and salt and pepper.
Sprinkle remaining ingredients in the bowl and serve immediately.
Nutty Goats on Rockets Salad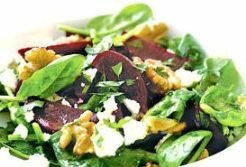 One of my fave salad recipes — delicious and a bit out of the ordinary:
Several big handfuls rocket leaves
2 large or 5 small cooked and peeled beetroot
150g goats cheese (or any feta cheese)
½ cup roughly chopped walnuts
Make a vinaigrette dressing by mixing together in cup or small jug:
¼ cup olive oil
Juice ½ lemon
¼ tsp powdered mustard
½ tsp sugar (or ¼ tsp stevia or xylitol powder)
Salt and pepper to taste
Arrange rocket leaves in bowl. Slice beetroot on top. Crumble goats or feta cheese over and sprinkle with the walnuts. Pour over the vinaigrette dressing.
Serves: 4 or more
Preparation time: 15 minutes
Cool as Cucumber Salad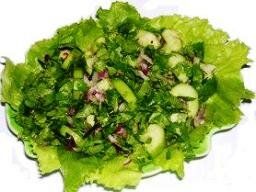 Another different salad that's cool and fresh, with a nice tang
1 medium garden or telegraph cucumber, or 3 lebanese cucumbers
1 medium red onion, chopped finely
2-3 spring onions
2 Tbln chopped coriander
Handful of green salad leaves, such as lettuce, rocket or baby spinach
2 Tbln fish sauce (vegetarian use soy sauce and dash chilli powder)
Juice of 1 lime
1 Tbln olive oil
½ tsp chilli flakes or 1 small finely chopped fresh chilli
Peel garden cucumber, but leave other varieties unpeeled if wished. Cut lengthways and remove all or some seeds. Cut into approximately 1cm thick oblong chunks.
- Diagonally slice spring onions into 1cm lengths.
- Mix cucumber, spring onions and diced red onion in bowl.
- Whisk all other ingredients together and pour over salad and mix well.
- Line serving dish with salad greens and tip on cucumber mix then sprinkle with coriander.
Serves: 4 or more
Preparation time: 15-20 minutes
Tabouleh
This is a wonderful parsley salad from Lebanon. It can be served on its own or used as a garnish on a bread roll. You will need: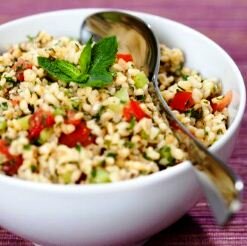 2 large bunches of continental parsley (4 cups)
1 bunch mint (1½ cups)
½ cup burghul (cracked wheat, available from health food stores)
2 small tomatoes
5 green shallots
1 small onion
1½ tablespoon oil
1½ tablespoon lemon juice
Place burghul in a small bowl, cover with boiling water and let stand for 15 minutes. Chop parsley, tomatoes, shallots and onion into small pieces.
Drain Burghul well in a strainer and rinse under cold water. Drain again and blot dry with absorbent paper.
Combine all ingredients in a large bowl, mix gently and serve. This can be made up to two days in advance.
Hot Kumara or Sweet Potato Salad
Instantly popular whenever it's made, this hot salad is also delicious eaten cold: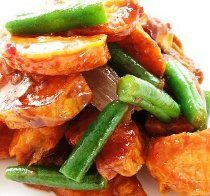 1 large scrubbed kumara or sweet potato
1½ Tbln oil for roasting
1 large red or brown onion, peeled and cut into approximately 10 wedges
4 medium garlic cloves, unpeeled
Handful green beans
1 Tbln balsamic or apple cider vinegar
2 Tbln sweet chili sauce
Salt and pepper to taste
- Preheat oven to 190C° (375F°).
- Slice kumara into 1cm rounds, then cut each round in half.
- Toss kumara and onion with oil, salt and pepper. Put in large oven dish or tray in single layer. Cook uncovered 15 minutes.
- Stir potatoes and onions, and add garlic.
- Cook, turning vegetables once more, for further 30 minutes, or until tender and onion has lightly caramelized.
- Top and tail beans and slice into 2-3cm lengths. Steam beans in pot on top of stove until tender but still slightly crisp. Remove beans from heat and put in bowl of cold water for 10 seconds to stop the cooking process, then drain.
- Take out roasted garlic and press from its skin into small bowl. Mash garlic with a fork and mash in the vinegar and chili sauce to combine.
- Toss dressing, beans, kumara and onion together in a large bowl. Serve salad hot or cold.
Serves: 4-6 as a side dish to main meal
Preparation time: 20-25 minutes
---
Main Recipe page: Vegetable Recipes