Barbeque Recipes
Some vegetarian ideas for cooking vegetables on a bbq
There's a good deal of pleasantness to be had standing around a barbie. The buzz of friends and family; the aroma of food; the anticipation of deliciousness, and the pride of your home grown vegetables quietly sizzling and softening.
Then to top it off, stroll to your veggie patch and pluck some herbs to sprinkle on the meal... how awesome (it's worth using this awesomely over-used word for your own bbq'd veg and garnishings)!
Give these barbeque recipes a go and enjoy...
Bean and Tomato Parcels

Grease 6 foil sheets to start. You will need:
500g green beans chopped
1 tomato, chopped
DRESSING
1 tomato chopped
1/4 cup tarragon vinegar
1/4 cup olive oil
1 tablespoon chopped fresh tarragon

Combine beans and tomato in a bowl. Divide mixture into 6 foil parcels and gather the foil around vegetables.
Pour the dressing evenly over parcels and seal the parcels tightly for cooking. Barbeque until beans are tender.
Potatoes with Parmesan and Herbs

500g potatoes
1/2 cup grated parmesan cheese
1 tablespoon fresh chopped parsley
1 tablespoon fresh chopped chives
1/2 teaspoon paprika

Scrub unpeeled potatoes and slice thickly. Cook slices on hot, well greased barbeque plate until tender.
Combine cheese, parsley, chives and paprika and sprinkle over potatoes. Serve immediately.
Mushrooms with Coriander Butter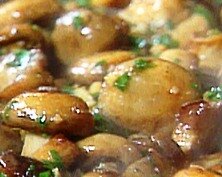 125g butter
1 clove garlic crushed
2 teaspoons grated lime rind
1/3 cup chopped fresh coriander
500g large mushrooms

Combine butter, garlic, rind and coriander in a bowl. Spread combination on mushrooms evenly and barbeque until mushrooms are just soft.
Creamy Pumpkin and Potato Parcels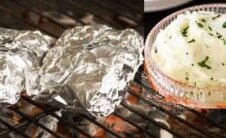 1/2 cup cream
2 tablespoons dry white wine
1 cup grated cheddar cheese
60g butter
1 tablespoon chopped fresh parsley
2 teaspoons ground nutmeg
250g pumpkin, sliced
2 large potatoes, sliced
1 onion, sliced

Prepare and grease 6 large foil parcels
Combine cream, wine, cheese, butter, parsley and nutmeg in a bowl. Arrange pumpkin, potato and onion slices evenly into the 6 greased, foil parcels.
Gather foil around the vegetables and pour the cream mixture over the top. Close the parcels tightly and barbeque vegetables until soft.
Barbequed Sweet Corn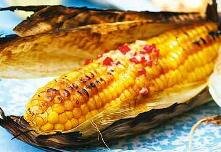 Take husked corn cobs and wash. Remove silk from the corn by peeling back, but not removing the husk. Replace the husks soak the corn in cold water for 5-10 minutes.
Put on a rack above medium to hot coals, turning frequently. Cook until the husks are dark brown (about 15 minutes) and they're ready to eat. Peel back the husks and eat! It's just delicious!
Some tasty ideas are: butter and salt and pepper, chopped sage and garlic, chilli sauce… and all these can be added before or after cooking. If adding flavours before cooking, especially if using butter, wrap the leaves tightly and make strips from an outer leaf and tie these around the corn cob to hold in the drips and flavour.
---
Main recipe page: Vegetable Recipes