April 2016 Issue #128
---
Hello,
What fun that we both love gardening. Thanks for joining me.
1) Well hello spring
2) Eco gardening tips
3) Red Cabbage & Lentils
---
Well hello spring. I've been expecting you...
Here down-under, we're closing the curtains, finding our slippers and not getting so many warm, sultry days—it must be autumn's crispness.
An article in the LA Times about spring in the Northern Hemisphere caught my eye on Why we get Spring Fever.
Great article, but if you want to skip the how and why... it's the emotional and chemical instincts in us that are aroused around springtime. It basically boils down to more daylight, warm weather, fewer garments, the gleam of perspiration—not to mention the heady odours of buds and blooms—running riot over the more than 1000 different olfactory receptor proteins found on neurons in the nose.
There you have it. Now go and impulsively leap and bound... out to the garden perchance?
---
Like chocolate, no self-restraint is needed to enjoy
No dig Vegetable Garden's FACEBOOK page. Love to see you there to read the latest news and tidbits!
---
Raring to grow
The FAQ section is the place where the beautiful people hang out... earthy and raring to grow. Saunthra from Malaysia shows exactly how to set up an automatic drip system. Very clever!

And who's a rhubarb expert? Why would a plant do this! Sky high buds
---
Eco gardening tips
How many seeds to plant?
Short answer: More.

Seed packets and other advisors give guidelines on spacing. You know what? I usually add a few more plants here and there. Why waste space, especially in container gardens.

Most people start picking salad greens when leaves are young, so I find it's best to pack the plants closer and keep picking and picking. The plants don't get so large and coarse; there are no bare spaces and in hot weather it helps shade and stops evaporation.

Less garlic odors
Re last newsletter about garlic and pungenticity... seems I'm wrong and stainless steel does remove garlic and onion smells. Readers have been emailing me and putting me firmly in place!

Athena writes: It works but you must use cold water.

Another reader says: To remove garlic odor, rub hands vigorously on your stainless steel sink for 30 seconds before washing them.

Lori says: First, after a nice meal I had too much "flavor" left over in my mouth. I took a soup spoon and placing it upside down over my tongue, like a lollypop, and left it (in a closed mouth of course) for a short while. When I took it out the garlic/onion taste was gone. Something about the stainless steel had neutralized the garlic/onion taste.

Second, I had been sent an item to test out. It was a hollow oval stainless steel "bar" (shaped like a bar of soap) and a tray to hold it when not in use. It was designed to be used when your hands were tainted after handling garlic or onions. You simply use it like you would a bar of soap. How long you apply the bar in a hand washing manner depends upon how bad your situation is. I have never had a problem getting rid of these odors.
Kale and hearty
Kale is almost called your Royal Awesomeness. It's revered as a modern health food. It's got more fibre than say spinach and broccoli but otherwise these greens are similar in their nutritiousness. (Now there's a delicious sounding word).

Another good reason to grow your own greens is that they are more fibrous having been grown outdoors. Once upon a time these greens were all grown commercially outside for sale in shops and markets, but apparently not so much now, thus less of that healthy fiber in shop-bought greens these days.
---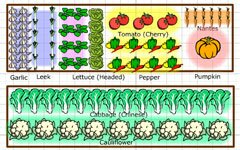 Want to know what vegetables to plant?
Want to know when to plant them?
The GroVeg Garden Planner is your answer. Click here for a 30 DAY FREE TRIAL!
---
Red Cabbage & Lentils
This was one of those 'leftover' dinners. It worked splendidly, but feel free to use what you have in your garden and fridge.

Ingredients
¾ cup red lentils
1 wedge red cabbage, shredded (about 2 cups)
6 Brussel sprouts, cut into quarters
1 small carrot, grated
3cm knob raw ginger, peeled and grated
1 heaped Tbln tomato paste
1/3 cup peas
2 tspn chilli paste
1 Tbln coconut oil (or oil of choice)
To garnish: ½ cup chopped parsley or celery with some top leaves
Salt and pepper to taste.
Method

Cook lentils in 3 cups water until soft (about 15-20 minutes).
Heat ½ cup water in frypan, add oil and gently stir-fry all veggies except garnish.
Put lid on frypan, but remove lid and give it all a few stirs during cooking.
When veggie mix is just cooked, but not too soft, add tomato paste, peas and seasoning.
Stir in chilli paste to cooked lentils.
Spread lentils on dinner plates, pile veggie mix in middle and top with garnish.
Preparation: 20 minutes
Cooking: 30-35 minutes
Serves: 2-3
---
Live, love and garden.
Megan