A free monthly resource from the wonderful world of gardening; giving you tips, recipes and reminders to make your garden grow!

---
Sept 2009 Issue #48

---
Hello,
What fun that you and I both love the topic of gardening. Thanks for joining me on this adventure. For any questions or feedback, just click on reply on the top toolbar of this email.
1) A spade is a spade, right?
2) Eco gardening tips
3) Zucchini Dip
Weather means more when you have a garden. There's nothing like listening to a shower and thinking how it is soaking in around your green beans. ~ Marcelene Cox
---
A spade is a spade, right?
Really, truly, I can spell, cross my heart and give you all my strawberries next season. Spit it out Megan... Well, being in a proper English speaking country, we use words differently than the English/American countries.

Thusly (old English), when I write flavour not flavor, and favourite not favorite, it's correct for half the world. There's tyres, instead of tires. We say neighbour, you say neighbor. Our mozzies are your mosquitoes. We like colour, you like color. We fertilise, you fertilize. This is a load of rubbish, which is garbage to you. Comprende?
---
Life-saving broccoli
I was reading about history's most amazing air crash survivors, and one young woman's account of the plane exploding way over a jungle, where unbelievably she landed alive. When she found herself hurtling through the sky, she remembers looking down just before blacking out and thinking how the forest below looked exactly like broccoli!

Of course we know broccoli is good for us and it saved her life too!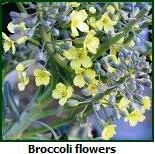 There's a heap of frustrated broccoli gardeners though. There are some simple rules to follow to make sure your broccoli doesn't flower too soon and produces well, so hurtle over to the updated Growing broccoli page.
Q & A
The reason I've very comprehensively re-done the broccoli page is because I have received so many broccoli questions, that I couldn't post them all up on the Gardening Questions & Answers page.

But if you have any new challenges, answers or tips about growing vegetables (including broccoli), don't hesitate to fill in the easy form over on the Gardening Questions page. Please do check to see whether your question has been asked before, or if the information is handy elsewhere on the website.

And to keep up with the latest Q & A's, as well as other changes and additions to website, subscribe to the RSS feed just below the navigation bar on the left of each webpage. No email is needed and easy instructions are provided.
---
Eco gardening tips
Don't waste those flowers:
So your broccoli has gone to flower. Whether it's an early season mistake, or end of season seed saving exercise... what you don't need, eat 'em, they're good for you. Let the flowers open and they are edible, in salads, with fish, and their petals sprinkled like confetti over pasta and other dishes.
Weeds' war:
I know you don't want to know, but in the spring and almost spring areas, it's a good time for weeding, though not if your ground is frozen of course, but when the ground is soft after winter it makes pulling out weeds easier. It's quite surprising that even those stubborn tap-rooted weeds in hard places often yield to your efforts.

Winter or summer, weeding is often easiest in the morning when the soil is moister. If you're a weeder that tosses weeds onto the path or back on the garden, then morning weeds can have a full day of suffering to shrivel up.

Oxalis:
Impossibly pretty, but impossibly dreaded, oxalis in springtime is missing most or all of those small bulbs around the main tap root. These little blighters of bulbs usually fall off and scatter away deep into the soil... so get any oxalis out while the going's good. Of course no-dig layers will kill oxalis eventually, but sometimes you've still got to dig out oxalis from a few places where you can't put down layers.
---
Zucchinis (courgettes) are rampant in late summer parts of the world right now. Here's a quick and easy raw recipe that you can adapt many ways.
Zucchini Dip
Ingredients
2 medium zucchinis (about 2 cups shredded zucchini)
½ cup plain yogurt
3-4 cloves minced garlic
1 Tblspn parsley
¼ tspn salt
Method

Shred zucchini.
Put shredded zucchini and all other ingredients in blender, or use bowl and hand blender, and blend briefly.
Cover and chill in refrigerator for at least 1 hour.
Note: Depending on how firm or runny the yogurt is, you may need to add a touch of water to get things going, but don't add too much or the dip will be too drippy. This makes a large bowl of dip, but it's not suitable for freezing.
Variations: Add 1 teaspoon of fresh chopped (or ½ tspn dry) oregano. Also try sprinkling dip with ½ tspn paprika before using.
Preparation: 8 minutes
Serves: About 1 dozen people for dips. Cut up finger sized fresh veggies for dipping.
---
Happy gardening

Megan