Composters
A Guide to compost bins, compost tumblers and all types of compost makers and equipment.
Happiness is... another name for finding the right composter that suits you, your garden and your lifestyle.
There will be no more composters moulding away, forgotten, in a dark corner of your garden, thank you very much.
If your old compost mess or compost maker didn't work for you, get with these modern wonders. Soon you'll be turning out satisfyingly good compost. Abso-compos-tootily.
Here are some of the composters that get the thumbs up from me. One of them is just what you need and I think you'll like the prices at AMAZON. I do get a small commission from Amazon, but more importantly, all my research clearly shows you simply can't find better prices than these. Read on . . .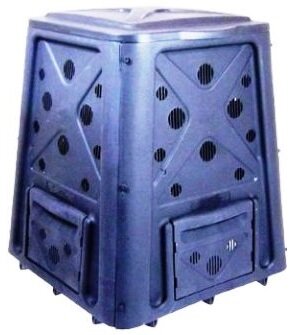 Redmon Green Culture 65-Gallon Compost Bin
This design is a good basic compost bin at a good price. Maximum heat absorption from the sun due to the dark colour. Pest safe but with enough air vents for good aeration to help composting.
Comes in a good size of 65 gallons (8.6 cu ft) and costs only $43.95. Perfect for composting the kitchen and garden waste of a small family. Conditional FREE shipping.
Assembled in minutes, this compost maker has 4 user-friendly and sturdy sliding panels and sensible, large lid.
An easy and uncomplicated way to start composting at home. Click below to go shopping. . .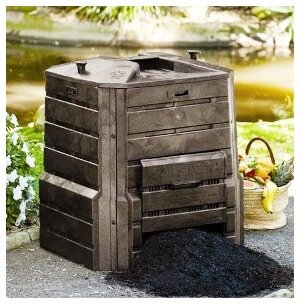 Soilsaver Classic Composter
A particularly sturdy as they come bin. It's neat, clean and attractive. Delivered to your door, you'll love this practical 100% recycled plastic compost bin. Designed to last it comes with a 25 year guarantee!
The more scraps, clippings and whatnots you add to this classic Composter, the more you CAN add, because it doesn't get full... it just keeps on producing compost for you.
Locking Self-Watering Lid keeps animals out while openings allow air to move through composter to speed up the composting process.
Robust thickness and construction helps produce and insulate heat which helps the micro-organisms breakdown waste to produce nutrient rich soil.
Size: 12 cubic feet (90 gallons) and costs only $109.99. A popular size for small to medium families. FREE shipping. Click below to go shopping. . .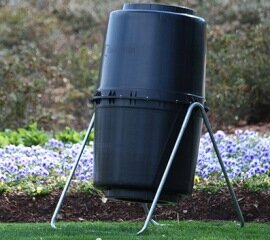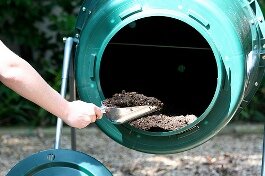 Tumbleweed Compost Tumbler
Made to withstand climate extremes with its strong 100% recycled plastic tumbling bin and well designed rustproof frame. Fun to turn and fun to watch how fast your scraps turn into compost. Great for larger lots of grass or leaves as the rod in the centre helps mix and aerate the pile.
Made from 100% recycled plastic; super quick assembly and has 2 animal-resistant twist lock vented lids at either end.
Size: 12 cubic feet (90 gallons) and costs only $179.99. FREE conditional shipping.
Take the backache out of turning compost. Click below to go shopping. . .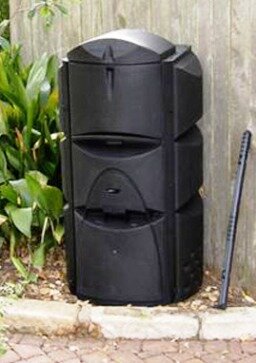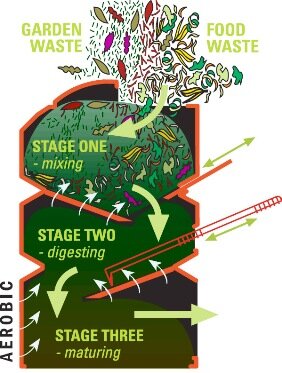 Earthmaker Exaco — The Eco-Friendly Triple Chamber Composter
Revolutionary Earthmaker takes the hard work out of home composting! Loads of fast compost for a big household. Tested and proven by independent trials as one of the best composters ever designed.
Size: 16 cubic feet (123 gallons) and costs only $227.16 with FREE shipping.
The world's first continuous cycle compost bin.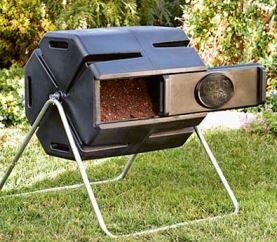 Spinning Composter
Very fast compost maker with its easy to spin action and aerating mixing fins. This spinning compost maker can give you compost in around a month. Extra thick black plastic absorbs heat to accelerate composting.
Made from 100% recycled plastic. Includes stand. Rodent proof.
Size: 7 cubic feet (52 gallons) and costs only $166.27 with FREE conditional shipping.
Another top quality option for small to medium sized household use. Click below to go shopping. . .
Power to you... you have a shiny new composter!
Don't let it sit there, put it to work. Poke around these links below:
Worms and Worm Farms (Vermiculture)