Enjoyable Gardening
"Either you think gardening is good for the
body and soul or you're wrong"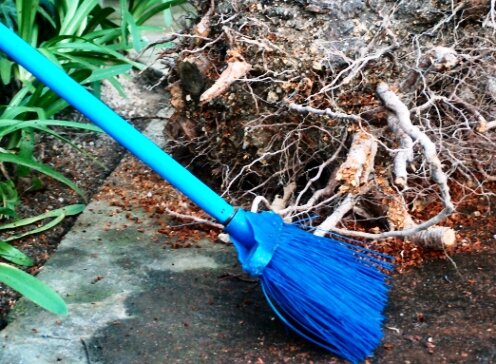 Recently I have come across several 'gardeners' who admit they don't enjoy gardening.
To them it is a chore, akin to outside housework.
They dislike mess and are constantly filling up rubbish bags of leaves and garden debris and putting them out for collection to the tip.
Most of these people are more likely to grow flowers and bushy ornamentals rather than vegetables. Here's my take on this and suggestions to save time, money and effort, and enjoy your garden:
Tips to appreciate gardening instead of it being a chore
Don't have bare earth around your plants. Yes it looks neat, but unnatural and the plants look lonely and temporary. Bare earth invites nature to cover it quickly — think weeds. Bare earth also erodes easily or dries out — think more watering you have to do.
Don't remove debris from the garden, clear paths only and put the leaves and twigs around your plants instead of buying mulch. It's not neat and attractive as wood chips, but it's more attractive in its own natural variegated way.
Even if you don't want to grow veggies or have room, plant some amongst your flowers and shrubs. Herbs are easy and some leafy greens. Get some satisfaction of growing your own... turn a chore into a boast!
Don't spend a fortune, (truly some do) buying annuals, then pulling them out when finished, tripping off to buy more to replace them, just because your mindset says you must have neat, colourful flowers all the time.

~~~~
Dear Gardening Reader – Do you need a gift for someone special?
Try Garden Gift Hub for affordable and interesting
nature inspired products.
~~~~

Put in ground covers, perennials and self-sowing plants. Ask friends for cuttings and/or buy seeds and grow plants from scratch... now that is rewarding and fun.
If the sun's belting down, just pull up any weeds and leave on top of the soil to bake. These dead weeds will eventually rot back into the ground. Some weeds, for example wandering willy, onion weed and elephant grass DO take too long to dry and die, so DON'T leave these on top of your garden. Dry them or rot them somewhere else.
Ditto with many ripe seeds that you have swept up from paths or driveways — don't put them on the garden. Late summer is a time when seeds drop everywhere. Here in Wellington, we have huge sycamore trees around the city. Their little aeroplane seeds twirl down and all gazillion of them hit the earth running.
If you do sweep your path with unwanted seeds, it's best to make a pile in an out-of-the-way spot and let rot, or dry out, or cover with heavy loads of paper, sacks etc and smother. You can have a compost bin for these garden nuisances and leave to rot for ages, or do a hot compost with them and kill the seeds' viability.
You CAN put them on your garden around plants, but then cover with at least 15 layers of damp paper or other organic material, then put some grass clippings or other non-weedy/seedy mulch on top.
Often with deciduous plants, once the seeds have dropped, the leaves turn brown, drop off and you can then use these leaves for clean, seed-free mulch.
When planting, make sure you dig a hole big enough and put in a good compost/soil mix. Make sure the plant is planted with soil covering all the roots, then add mulch around it. I see many plants with roots exposed, almost sitting on the soil — and this means plants need watering more often, and they are unstable in the wind.
Finally, stop and smell the roses. Yes, pull up a chair, gather friend or family and sit in or near your garden. Do this often, and notice the changes. You'll soon be exclaiming at the feast of delights of birth, death, companionships, war, ravages and beauty. You'll notice what's happening rather than constantly vacuuming the ground with your eyes, or frowning out the window at a leaf fluttering down.

Now... what's your favourite pastime?
Did you say gardening?
Mine too!
MORE Articles on Sustainable Gardening and other Natural Living Ideas.